News eForms Feature: Application Cloning
Save your customers' time, now they can create new application from previously submitted form
Oct 12, 2015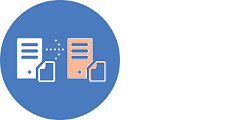 About one year ago we have added a new 'Application Cloning' feature. It is a function that our clients have asked us about in the past.
Every feature of TransForm Engine was born by addressing FifthOcean Technologies' client challenge.
Challenge
While preparing medium to large online applications an applicant faces a number of obstacles, the most significant being:
it takes a lot of time to fill in and especially to re-enter the data which may have already been submitted in the past
there is always a chance that the application will be rejected and therefore an entire effort is lost
From our experience it is not very uncommmon, especially in regulatory environments, that application:
may take up to 4-8 weeks to complete
may have over 1,000 data fields to fill in
may require uploading of over 10 file attachments (applications that contain 500 Mbytes of attachments spread over 300 files is not a rarity)
Repetitive execution of such tasks is an enormous effort. Anything that can reduce this effort is received by applicants with gratitude.
Solution
TransForm Engine 'cloning' version has been released in December 15th 2014.
From that moment any section of a form could be marked for cloning. Business decides which sections of the application form can be cloned and which are not permitted for cloning. For example, 'Payment' section shall never be subject to cloning, the same restriction can be placed for sections where an explicit declaration or confirmation is required by an applicant.
Result
Big sigh of relief! The applicant feedback was:
exteremely helpful …
a real time saver …
easy to use …
we wish that other online systems that we use had the same capability …
Another pleasant and unexpected outcome for our clients from TransForm Engine cloning implementation was - cloning can be successfully applied across different forms!
---
More about Data Reuse
Considering paramount importance of data reuse when processing applications online, in addition to 'Application Cloning' functionality TransForm Engine delivers additional ways of enhancing applicants' experiences and saving their effort:
User / User Group Profiles, when online form automatically creates, updates and reuses data that has been declared in 'profile' fields
Start-by-Reference Mode, when values of selected fields are automatically populated from the parent form
Environment Profile, ability to load form data from online environment of an applicant, including HTTP session, parameters, pages, roles and permissions, etc.
Business Data, loading applicant data from organisation's ICT system(s), e.g. Active Directory or databases