News Accreditation by Queensland State
QAssure and GITC accreditation
Jul 11, 2016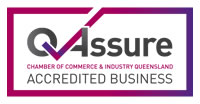 We are proud to announce that as consulting arm of MyOffice24x7 FifthOcean Technologies received both QAssure and GITC accreditaion.
About QAssure and GITC accreditation
The Queensland Government runs a small-to-medium enterprise (SME, employing fewer than 200 people) participation scheme to help more SMEs supply ICT to government agencies. SMEs contribute significantly to the Queensland economy, and the Queensland Government designed more consistent application of procurement process to ensure that SMEs gain greater access to the Queensland Government market.
QAssure certification involves a financial and insurance review process to get an independent assurance that company's ICT business is sound and it is qualified as a goods and services provider.
GITC accreditation is an agreement by suppliers to use the GITC Framework terms and conditions. The framework is used when the Queensland Government agencies approach the market formally through a full tender process and Invitation to Offer.
Go to QAssure accreditation page.